B2B Content Marketing: The Best Practices in 2022
Client: Hi, Eastant! We are facing some challenges to get new clients through our traditional marketing activities. Before the pandemic, industry fairs and expos were important promotional activities for us, but now they are held less frequently and often postponed or even canceled due to sudden surges in COVID-19 infections. How can we reach out to more new clients?
Eastant: Hi, Client! The pandemic has surely caused many disruptions for businesses, but do not despair! Although offline events, business travel and face-to-face sales are heavily impacted by pandemic control measures, digital channels are increasingly on the rise and can leverage a powerful solution to respond to these recent changes: content marketing.
According to the survey "B2B Content Marketing: Insights for 2022" conducted by the Content Marketing Institute, 74% of B2B content marketers have said the value of their content is the top factor for the success of their marketing strategy.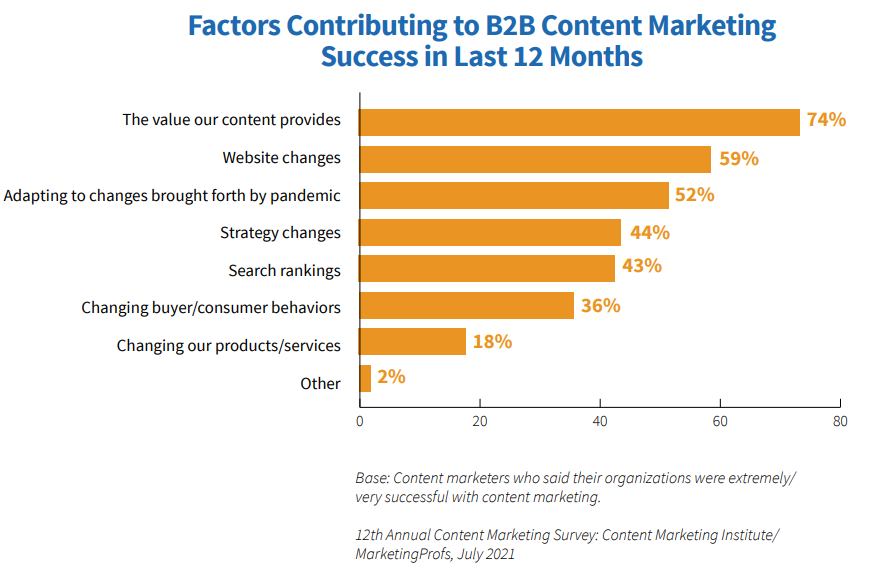 Client: Great news! But how to create valuable content for our target audience?
Eastant: Let me share with you the latest Top 3 Best Practices for B2B Marketing Content in 2022.
1. Be Humanly Digital
Although social media platforms are digital channels, the audience that you want to reach is still made up of human beings. Do not use social media exclusively to sell to your clients, people are already constantly bombarded by all sorts of information and advertisements on social media. Instead, understand what your audience needs, what is the content they search and like the most. Then, guide them through a journey that gets them to know your organization better in a more authentic way, to educate them and to build trust. Selling will ultimately be the last step.
2. Get Creative and Try New Things
Content-wise do not overwhelm your clients with detailed product features promotion, but rather shift the focus towards sharing more industry insights that can assert your business as always being up to date in your sector.
Also, as us humans are highly visual beings, images, videos and multimedia must be prevalent in your content marketing strategy.
Infographics showing industry data or the fundings of a research conducted with the aim of solving clients' problems will surely arouse user interest and generate high click-through rate.
Also, online events/webinars/online courses are all proven successful channels to help you gain a foothold as an industry leader in the market, as well as to generate new leads.
3. Transform Your Invisible Audience into Real Leads
When companies publish content on their social media, they often neglect to add a call to action, thus zeroing any possibility to convert users into leads.
An efficacious call to action may redirect users to the official website, other social media accounts, get in contact with you or download free materials. It might be just one word or a well-designed animated button, but the impact on your business will be noticeable.
Client: That's all? It looks very simple and easy!
Eastant: Well… not really, these are just a few tips. Why don't we schedule a meeting for next week? Our team can further explain how we can assist you with your digital marketing strategy in China.
Client: I am definitely interested in knowing more. Let's meet next week!
Would you also like to know more about how to adjust your B2B content marketing strategy in China? Book a call with us at info@eastant.it!
Read the original article on WeChat: B2B Content Marketing: The Best Practices in 2022