Italian Design Icons - Chongqing Edition 2021
Italian Design Icons
意大利品牌设计展
IDI - Italian Design Icons is a splendid collection of internationally acclaimed Italian brands, which have undoubtedly impacted the design of countless products throughout the world as well as the lifestyles of millions of people. Italian Design Icons wants to celebrate the excellence of Italian design, embrace the sustainability of new projects and share knowledge across various industries.
意大利品牌设计展汇集了众多享誉国际的意大利品牌,这些品牌无疑影响了全球无数产品的设计,也影响了数百万人的生活方式。IDI -意大利品牌设计展希望通过这种方式赞美意大利设计的卓越,拥抱新项目的可持续性,并在不同行业分享知识。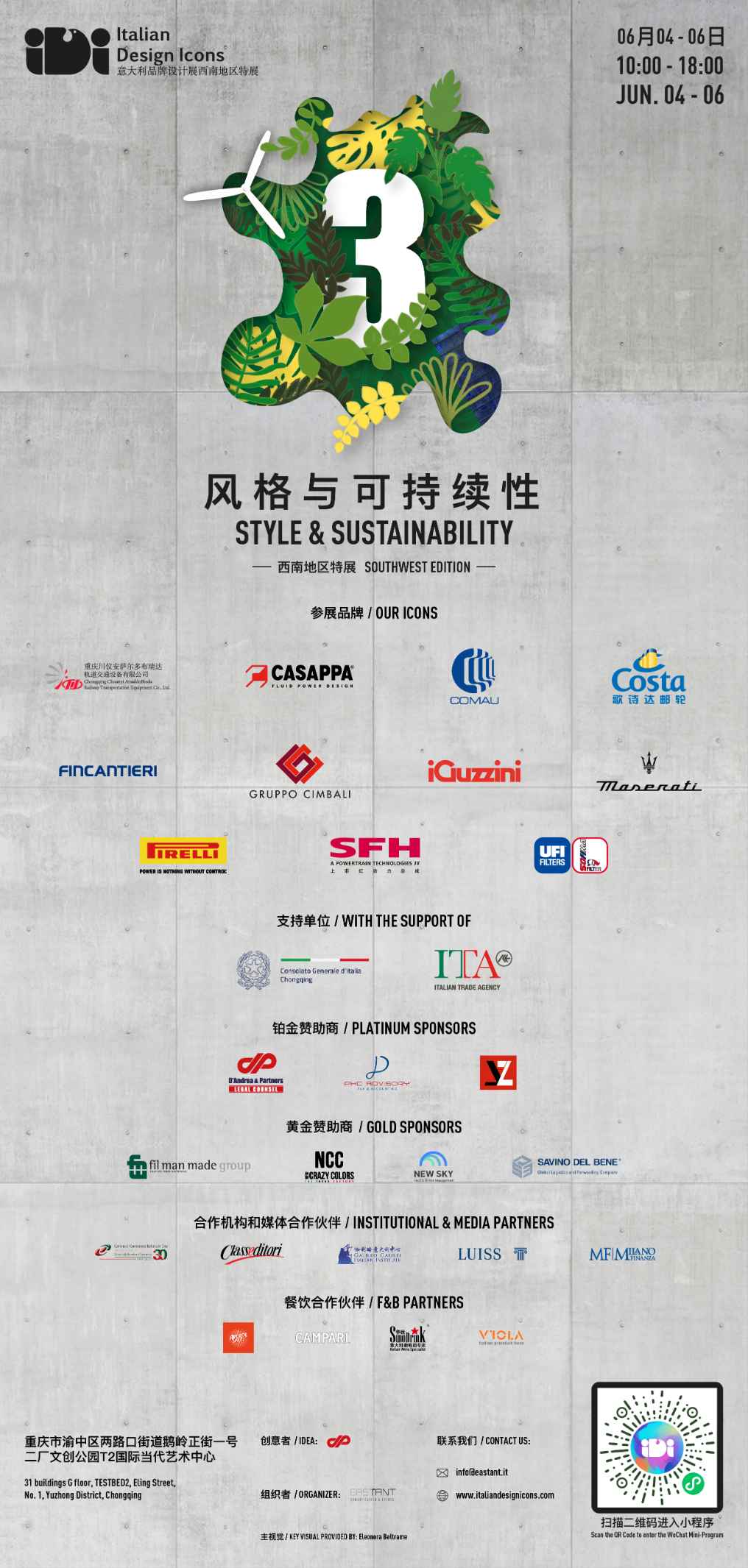 Lectures with designers, architects, creative directors, CEOs and University Professors from all over the world, along with a high-level event with top representatives from both government level and the industrial sector, will make this three-day exhibition an incomparable occasion to share Italian excellence and uniqueness.
来自世界各地的设计师、建筑师和创意总监、席执行官和高校教授举行的讲座,以及由来自政府和工业部门高层代表参加的高级别活动,将使这个为期三天的展会成为分享意式卓越与独特的无与伦比的机会。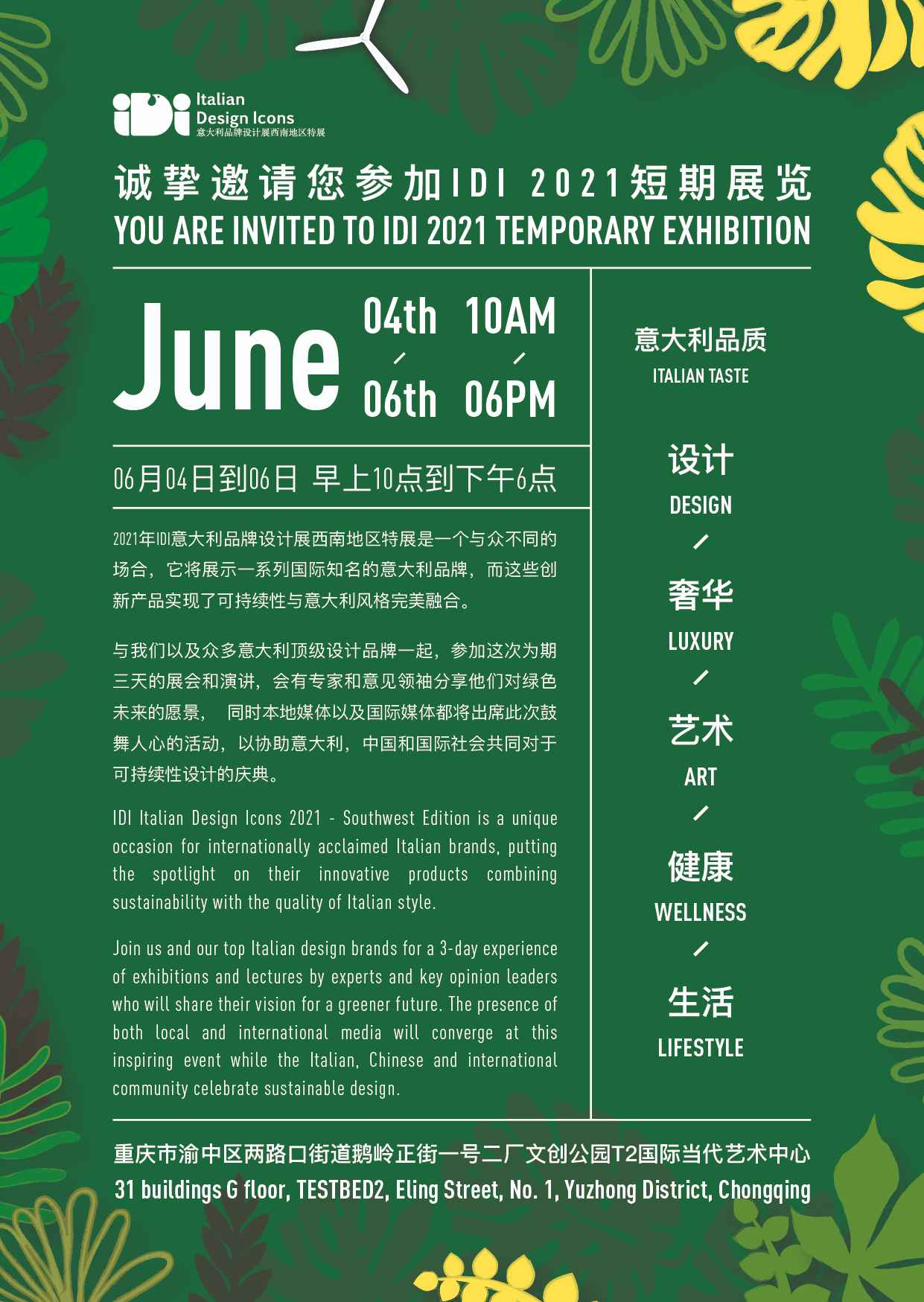 The purpose of the exhibition is to promote, particularly among the Chinese public, Italian industrial design along with mechanical and lifestyle brands. Throughout the 3 days of the exhibition from June 4th to June 6th, our guests will have the opportunity to participate in exclusive lectures given by our iconic brands' representatives and partners, who will share their ideas and vision about innovation for a more sustainable society and new methods of industrial design.
此次展会的目的是推广意大利工业设计和机械品牌,特别是在中国公众中。在2021年6月4日至6月6日为期3天的展览中,我们的参展者将有机会参与由我们标志性品牌的代表和合作伙伴所举行的独家讲座,他们将分享他们对更可持续的社会和工业设计新模式的创意和愿景。
Italian Design Icons originated from an idea of DP Group and is organized by Eastant Communication & Events.
意大利品牌设计展源自于DP集团的创意,并由亦适达市场营销策划公司组织举办。
This year's edition, the third in South-West China, will see the participation of top-tier brands of the likes of Ansaldo Breda, Casappa, Comau, iGuzzini, Gruppo Cimbali, Maserati, Pirelli, Saic Fiat Powertrain Hongyan (SFH), and UFI Filters.
今年的展会是重庆站的第三届, 包括安萨尔多安萨尔多·布雷达(Ansaldo Breda)、凯斯帕液压(Casappa)、柯马(Comau)、依古姿妮灯具(iGuzzini)、Cimbali集团(Gruppo Cimbali)、玛莎拉蒂(Maserati)、倍耐力(Pirelli)、上菲红(SFH), 和欧菲滤清器(UFI Filters)顶级品牌的参与。
We are honored with the precious support received from our institutional partners including the Consulate General of Italy in Chongqing and Italian Trade Agency.
我们很荣幸得到了意大利驻重庆领事馆、意大利对外贸易委员会机构合作伙伴的宝贵支持。
Among our institutional and media partners, we are proud to cooperate with Class Editori, Galileo Galilei Italian Institute, LUISS University, and Milano Finanza. In addition, we are honored to have the support of partners such as D'Andrea & Partners Legal Counsel, PHC Advisory, YZ Design, Fil Man Made Group, and New Crazy Colors, New Sky Asia and our F&B partners Aperol, Campari, SinoDrink, and Viola.
在我们的媒体合作伙伴中,我们自豪地与Class Editori、国际社会科学自由大学(LUISS University)、伽利略意大利中心(Galileo Galilei Italian Institute)、和Milano Finanza合作。此外,我们还有幸得到了德恩瑞法律咨询(D'Andrea & Partners Legal Counsel)、普咨锐家商务咨询(PHC Advisory)、富尔美技术纺织(Fil Man Made Group)、新疯狂色彩(New Crazy Colors)、New Sky Asia以及研哲建筑装饰(YZ Design),还有我们的餐饮合作伙伴阿佩罗(Aperol)、金巴利(Campari)、华饮(SinoDrink)、维奥拉啤酒(Viola)等合作伙伴的支持。
For more information on our previous editions, feel free to visit our website: http://www.italiandesignicons.com/
若想了解往届展览,敬请访问我们的网站: http://www.italiandesignicons.com/